I wanted to share some news with you!!  I am now a member of the wonderful Design Team over at Loves Rubberstamps!!  I am so excited to play with the ladies over there!!  My first post with them is coming up Tuesday!! 
Visit their store - they carry a wide variety of stamp lines, like my favorite MFT!!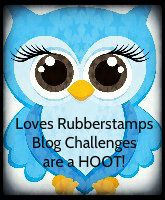 In other news, I have two more videos left for you... I'm hoping you are enjoying them as much as I am enjoying making them!   
On the homefront, October is coming and will bring a little bit more slow-down, as we transition into the cooler weather and prepare for winter.  Football (middle school and flag) are almost over and we will get a few more nights and weekends at home.  YAY! 
Enjoy your weekend!!